Public Notice
The Town of Scotts Hill, TN has applied for Federal Emergency Management Agency (FEMA) Hazard Mitigation Grant Program (HMGP) funding through the Tennessee Emergency Management (TEMA) as a sub-recipient.
Click
here
for full details.
---
Welcome to Scotts Hill Tennessee!!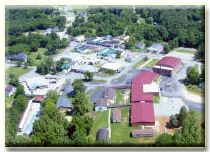 Scotts Hill is a small town with a friendly atmosphere located in the southern part of both Henderson and Decatur County, Tennessee. Our unique city sits midway on the county line and encompasses land inside both of the two counties. Our city has experienced tremendous growth over the past few years and we feel impart due to the family atmosphere and friendly residents in the community.
Throughout our site you will find lots of helpful information, a city directory, events information, history, aerial photo's of the area and so much more. These are but a few of the many ways in which we try to spread the word about our great city.
---
Local Map
View Larger Map
---
Need help or still Have a question?
If you don't see what your looking for, or have a question, please feel free to contact us here or give us a phone call at 731-549-3175. The city administration office is always ready to help you with any questions concerning our community.